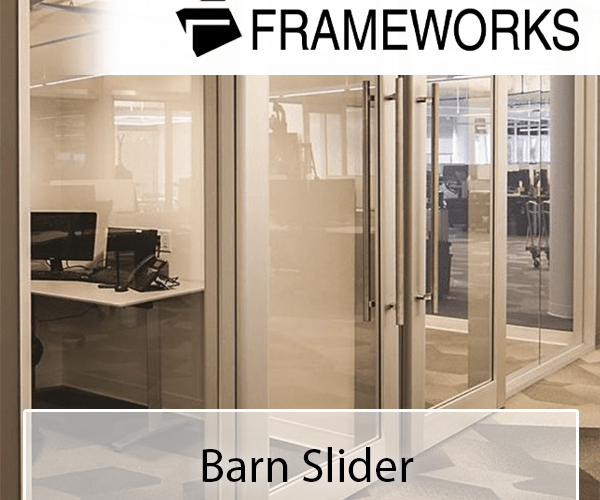 Posted by Ashley Easterwood
On January 28, 2021
Frameworks barn slider doors help conserve space without compromising privacy. Doors slide along a top hung surface-mounted track to achieve peace and quiet while operating smoothly. Our concealed door guide assists in eliminating the need for a recessed floor track. Barn Slider
Doors are available in narrow, medium, or wide stiles to accommodate ¼, ⅜, or ½ inch glass. The system is versatile with a vast selection of elevation options. Our barn slider series lets you choose from simple drywall cased openings, or you can match the aluminum profiles and finishes of our Type I and II Systems, sidelites, windows, walls, or cased openings.
This design also gives customers the option to extend the door opening space by implementing a pair of bi-parting sliders. The design is available for all units up to 12 feet tall with wrap or abut walls. This series is also available to use with wood doors, achieving a rustic or wood-inspired look for your space. Tell us what you envision and Frameworks will make it a reality! Barn Slider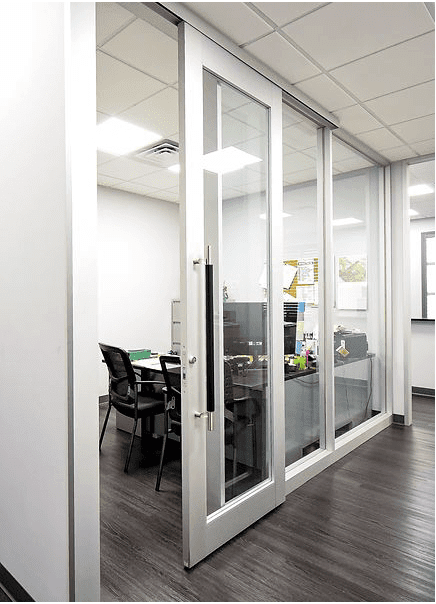 1½ and 2 inch trim options are available for this style, It can accommodate a wide selection of throat sizes: 2¼, 3½, 3¾, 4⅝, 4⅞, 5¼, 5½, or 7¼ inches. Door stiles are available in three sizes: 2⅝, 4¼, or 5½ inches. Door rails are available at 1½ (top only), 3 ¾, 6, or 10 (bottom only) inches.
Showcased by Construction Interior Products, the image on the right displays our barn slider door pair with our Type II framing system. The exhibit features a 1½ inch flush trim and a medium stile door in a clear anodized finish. Barn slider
Renowned for exceptional customer service and follow-through, Frameworks Manufacturing's short lead times make it the confident choice for fast-track and tenant fit-out projects. For more information about Frameworks Manufacturing and what we can do for you, visit our page to view designs and options. To inquire about other products and services, visit our products page or contact Frameworks today!