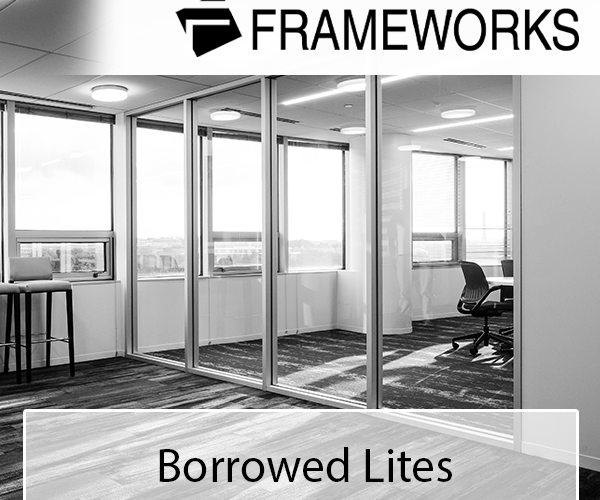 Posted by Ashley Easterwood
On April 15, 2021
Borrowed lites are an opening in an interior wall that does not include a door, and allows light to pass from one room to another. This allows a space with abundant natural light to share with adjoining spaces because of its open design.
The open design, sharing more light, can be an effective way to decrease energy costs from artificial lighting, even though it is not intense enough to completely rely on as a light source. But borrowed lites can provide adequate illumination to your office space and can be a great alternative during daylight hours.
Frameworks offers borrowed lites to implement in any design to make your vision a reality! Borrowed lites are available in our Type I System 375 and 487 series with ¼" and ⅜" glass thickness, as well as our Type II System 350, 375, 462, 487, 550, and 725 series with ¼", ⅜", and ½" glass thickness. This design can be incorporated with vertical and horizontal mullions to make divided lights.
This design is available in standard paint finishes of black, bronze, and white as well as offering customizable matching paint finishes too. Our anodized color options are black, bronze, and clear. DWG and PDF drawings are available on our website to visualize our products.
The British International School located in Katy, TX utilized Frameworks Type II Framing system using borrowed lites with a 1½" flush trim in a clear anodized finish as seen below.
Since 1996, Frameworks has been manufacturing high-quality, prefinished aluminum frames, sidelites, borrowed lites, and doors for interior and commercial applications. For more information about our Borrowed Lites, inquire about other products and services, or if you need to speak with a representative, visit our products page or contact Frameworks today!