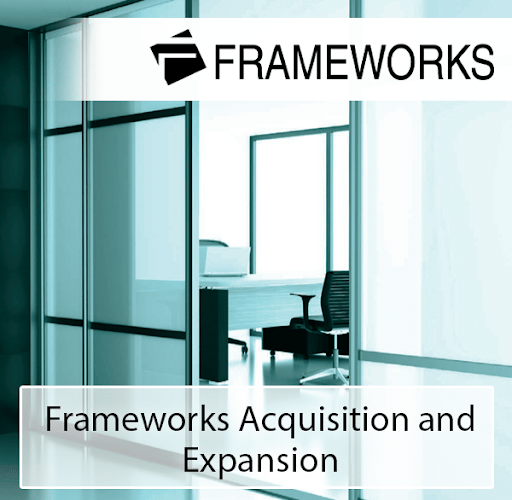 Aluminum Doors,
Aluminum Frames,
Aluminum Products,
Development,
Frames,
Learning,
Sliding Doors,
Windows
Posted by Ashley Easterwood
On May 13, 2021
Frameworks has been in the process of expanding its warehouse to enable higher levels of inventory while maintaining our industry-best lead times. Frameworks has acquired manufacturing equipment and inventory from Versatrac, allowing Frameworks to increase production capacity and increase inventory levels.
The acquisition of Versatrac's equipment includes 2 CNC's and multiple punch presses effectively doubling production capacity. The additional inventory and manufacturing equipment will be stored in our warehouse, which is expanding from 65,000 sq.ft. to 81,000 sq.ft.
For customers who have Versatrac's R-series, no fear! The R-series is compatible with Frameworks Type I sidelites and frames system. Also, Versatrac's Trim System will be maintained for a couple of months for any replacements or additions needed for an existing job. Eventually, the inventory will be phased out and replaced with Frameworks Type II Frame System.
Our Type II Frame System is a modular system that was developed for greater versatility and strength as well as easier installation. It features snap-on trim that conceals fasteners and provides clean design lines. Frameworks Type II Frame Systems are installed after the walls are finished and painted, which exempts it from critical path scheduling and makes it the ideal choice for design-build or fast-track fit-out projects. The system accommodates ¼", ⅜", and ½" glazing.
Since 1996, Frameworks has been manufacturing high-quality, prefinished aluminum frames, sidelites, borrowed lites, and doors for interior and commercial applications. Frameworks remains the leading manufacturer of interior aluminum doors, frames, and windows. For more information about Frameworks, click here. To inquire about our products and services or if you need to speak with a representative, visit our products page or contact Frameworks today!