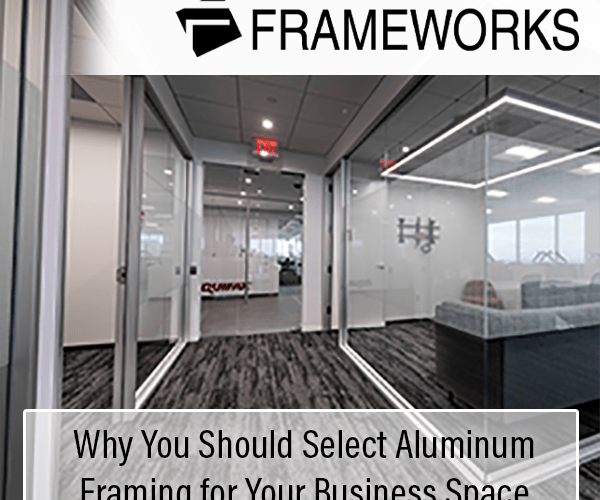 Posted by Ashley Easterwood
On October 22, 2020
Aluminum framing not only portrays professionalism and provides simple aesthetics, but creates a return on investment. Whether you're building a new office or converting an older space, aluminum office fronts provide an open concept environment no matter what the size. Here are a few reasons why you should install aluminum framing in your office space or building:
Aesthetics
There are various aluminum framing options available to provide a simple, sleek elegant appeal to your office space. Aluminum framing offers several finishes designed to ensure your creative vision is achieved while making the space more appealing and stylized.
Space Saving
Aluminum sliding doors save a lot of space compared to swinging door options. The strength of the material and its design supports the room while increasing space to the office and its surroundings. Businesses with more items needed in the office benefit from the extra space allowed by a slim style frame and sliding door.
Practical
A lot of work goes into building full, permanent walls. Aluminum office fronts are more effective since they are one of the cheapest materials available and are useful for trapping light inside their rooms. Installation is easy as well as removable, making remodeling less stressful.
Privacy
Privacy is a large value for businesses. Between meetings and project collaboration, there is sometimes an increase in excess noise, hampering the productivity of others. Aluminum framing reduces the risk of inefficiency and increases the focus of team members. This also gives employees the chance to feel secure in their own space.
Lighting
Lighting is an essential part of a business space. More permanent walls decrease the efficient use of lighting in the building, increasing energy consumption and discarding the beneficial use of natural light. Aluminum office fronts take on more lighting to help your space illuminate without using extra sources of light, decreasing the strain on your budget.
As office space requirements and styling options change, having aluminum framing installed is the best way to go. This framing style eliminates a lot of troubles businesses face when remodeling or building an appealing and efficient office environment. Frameworks provides two types of aluminum framing with several finish options, and are manufactured to integrate into standard drywall but can be adapted to accommodate other wall conditions.
For more information about our interior aluminum framing, visit our page to view our designs and options. To inquire about other products and services, visit our products page or contact us today.