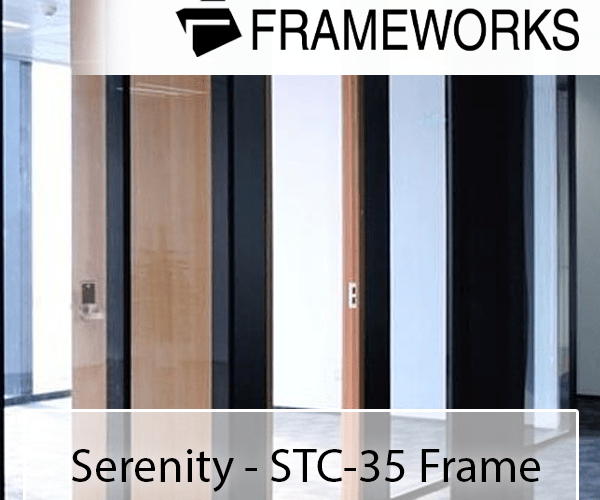 Posted by Ashley Easterwood
On December 3, 2020
Frameworks is pleased to offer a new option in the aluminum frame industry. The Frameworks Type II aluminum frame has now been tested with STC (Sound Transmission Class) rated wood doors from Graham and Maiman. Designed specifically for interior applications, this new solution consists of an STC 35 architectural wood door paired with Frameworks aluminum frames. An aesthetically pleasing industry-first that allows designers to achieve the clean lines of aluminum frames with the beauty of wood doors.
The Serenity has a Sound Transmission Class 35 rating, has an ASTM E90 and E413, and is fully operable and lead-free. Type II framing is available in 1¼ inches, 1½ inches, and 2 inch trim. Tested with Graham Serenity and Maiman Serenity thermal infused doors, this option will provide a sleek modern feel while maintaining a classic look with the wood door. The system does require a Pemko acoustical seal kit (gasket and door bottom) and is included in the package. For fire-rated applications, the Pemko frame applied edge seal (Category G) has a 20-minute positive pressure Category B application included with fire-rated aluminum framing.
There are two options for this door and frame system: a three-sided frame or a sidelite frame. Our three-sided frame option features a single swing door with a width of 2 to 4 feet and a height of 6 to 9 feet. It also features a 20-minute fire-rated IL 10C Category B from Warnock Hersey. This option is available in flush, 252 in2 (non-rated) with wood molding or metal vision panels, or 100 in2 (fire-rated) with metal vision panels. The sidelight frame features a door width of 2 to 4 feet and a height of 6 to 9 feet. Single swing or flush doors are available and are non-fire rated. The maximum frame glazing (glass) area is 7 feet wide by 9 feet high. The maximum overall frame size is 11 feet wide by 9 feet and 2 inches high. Customers also have the option of one horizontal or vertical mullion, or a single butt-joint.

Since 1996, Frameworks has been manufacturing high quality, prefinished aluminum frames, sidelites, borrowed lites, and doors for interior and commercial applications. For more information about our Serenity STC-35 Frame System, visit our page to view designs and options. To inquire about other products and services, visit our products page or contact Frameworks today!