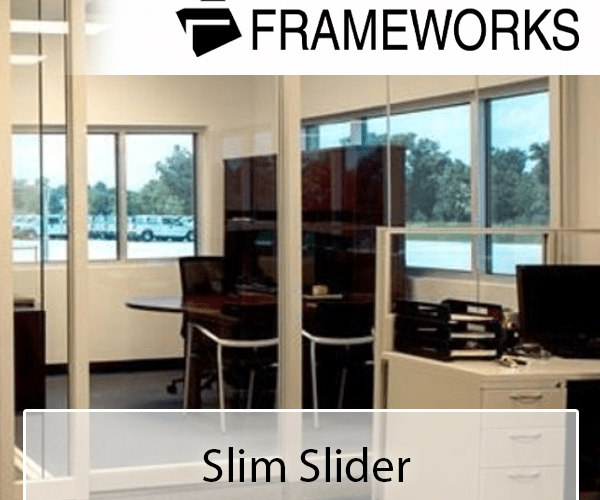 Posted by Ashley Easterwood
On January 7, 2021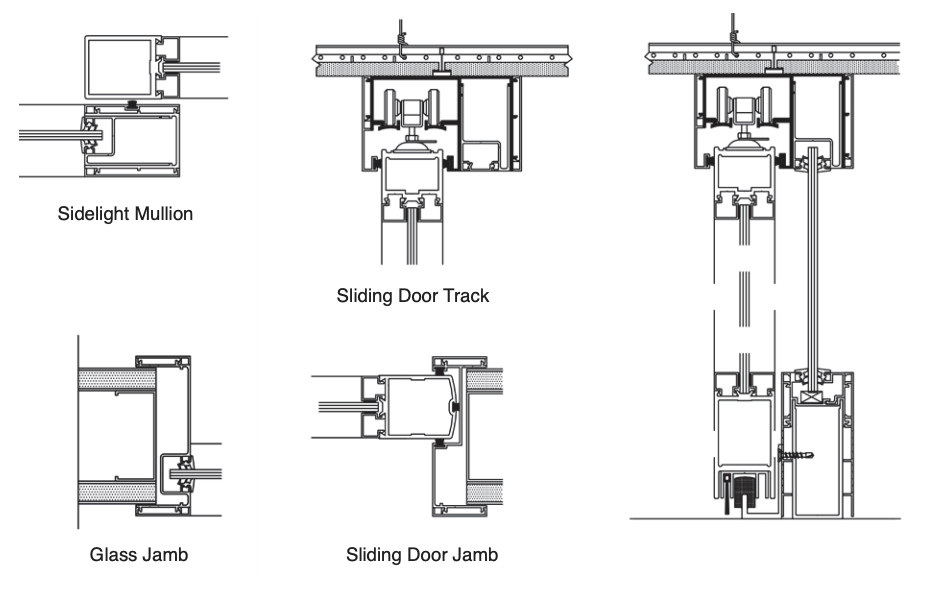 Frameworks Slim Slider provides privacy and secures the office front in a sleek, contemporary design that contributes valuable daylighting for the space. The door and frame opening consists of a top hung sliding door track and sidelite capable of spanning the full office front. Corner conditions can be added using the framing system as the return of the adjacent walls.
Frameworks Narrow Stile doors glide smoothly and quietly with profiles that match that of the aesthetic elements of the frame. Its conceptual design combines the installation ease of a sidelite frame and barn door with the look and sleekness of a fixed panel/slider. Demountable for tenant fit-out applications, this series can be used with a hook bolt for convenience. Locking capabilities are achieved with either the Adams Rite MS1850 hook bolt, and Adams Rite 1870* Cylinder-Operated flushbolt lock, or rockwood locking pull.
The Slim Slider series features units up to 10 feet tall with a wrap or abut wall option (having a 3¾ inch partition). Trimming options include 1½ inches or 2 inches. This product is compatible with ¼ inch or ⅜ inch thick glass. Door stiles are available at 2⅝ inches, 4¼ inches, or 5½ inches. Top door rails are 1½ inches with the bottom being available in 3¾ inches, 6 inches, or 10 inches. Various corner posts are available and the series can also be used with wooden doors.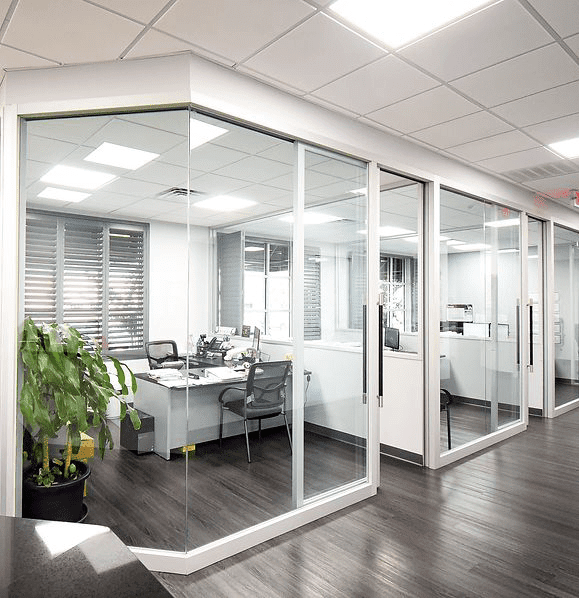 One project featuring the Slim Slider series is Construction Interior Projects. The image to the right shows our Slim Slider system with a Narrow Stile sliding door in our standard white painted finish.
Since 1996, Frameworks has been manufacturing high quality, prefinished aluminum frames, sidelites, borrowed lites, and doors for interior and commercial applications. For more information about our Type II Frame System, visit our page to view designs and options. To inquire about other products and services, visit our products page or contact Frameworks today!