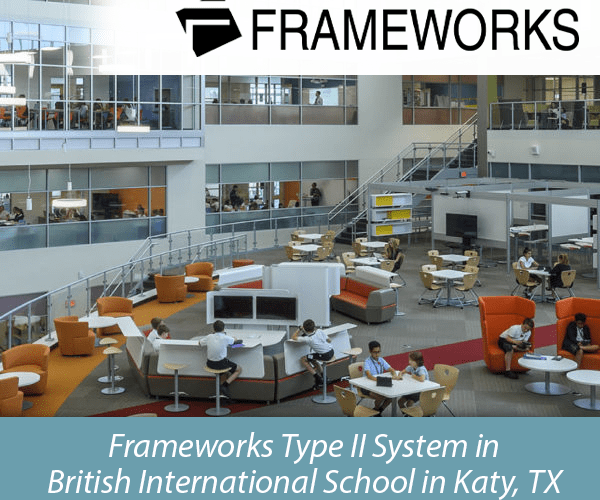 Aesthetics,
Aluminum Doors,
Aluminum Frames,
Aluminum Products,
Borrowed Lite,
Fire-Rated,
Fixed Panel Slider,
Frames,
Interiors,
Learning,
Managing,
Office Fronts,
Sidelites,
Sliding Doors,
Trims,
Uncategorized,
Windows
Posted by Ashley Easterwood
On April 28, 2022
Frameworks Manufacturing provided aluminum frames, windows and doors for the British International School in Katy, TX interior learning spaces. Aluminum doors and framing systems can help create an open environment that promotes freedom for students to open up their thinking and creatively engage with new ideas.
This specific project utilized our Type II framing system—a modular system developed for greater versatility and strength, and easier installation. This framing system features a snap-on trim that conceals the fasteners and provides clean design lines. The image below shows one of the learning spaces, which used Frameworks' borrowed lites with 1½" flush trim in a clear anodized finish.
Frameworks works on various projects for a multitude of different clients. To preview other projects, click here. To learn more about our Type II Framing System, view our Type II framing page here. To review other products Frameworks offers, view our product page. If you have any questions about a project you would like to begin and how Frameworks can help, contact us today and one of our representatives will be happy to assist you.