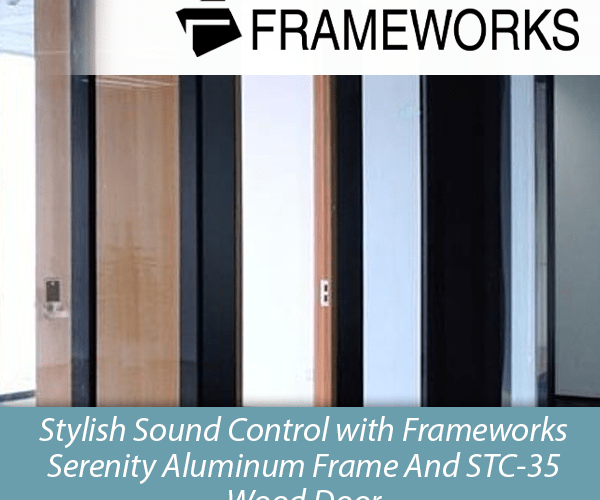 Aesthetics,
Aluminum Doors,
Aluminum Frames,
Aluminum Products,
Borrowed Lite,
Fire-Rated,
Frames,
Interiors,
Office Fronts,
Serenity STC-35 Frame System,
Sidelites,
STC Rating,
Trims,
Uncategorized,
Windows,
Wooden Door
Posted by Ashley Easterwood
On June 22, 2022
Distractions within your office space can affect the overall productivity, mood and performance of your team. When designing an office space, think ahead. Consider potential issues that may be prevented based on the layout and materials used to complete the project.
The Frameworks Type II aluminum frame has now been tested with sound transmission class (STC) rated wood doors from Graham and Maiman. Designed specifically for interior environments, this new solution consists of an STC-35 architectural wood door paired with Frameworks Type II framing system. An aesthetically pleasing industry first, this pairing allows designers to achieve the clean, sleek ornamental aluminum frames with the beauty of wood doors. Additional features include:
Sound Transmission Class (STC) 35 rating, fully operable. ASTM E90 and E413
Lead-free
Type II 487 frame system available in 1-1/2" trims
Tested with Graham Serenity and Maiman Serenity Thermal Fused doors
Required Pemko acoustical seal kit (gasket and door bottom), which is included.
The framing system will consist of three sides with only a single swing to accommodate the stylish wood door. The door width can range from 2-4 feet, and its height from 6-9 feet. The doors are 20-minute fire-rated from Warnock Hersey's UL 10C Category B. It is available in flush, 252 2 in. (non-rated) with wood moulding or metal vision panels, or 100 2 in. (fire rated) with metal vision panels.
If designers wish to implement sidelites, the door width and height options remain the same at 2-4 feet and 6-9 feet, respectively. The overall system would still be a single swing, with flush doors, and a maximum framing glazed area (for the glass) at 7 feet wide by 9 feet and 2 inches high. The maximum overall frame size would be 11 feet wide by 9 feet and 2 inches high. It would also feature one horizontal or vertical mullion, or a single butt-joint.
Customers recognize Frameworks as an industry leader in interior aluminum doors, frames, and windows, and choose us for providing quality products with unmatched customer service. We help our clients make their vision a reality by understanding their requirements for the project.
If you have any questions about Frameworks' Serenity aluminum frame and STC-35 wood door, check out our brochure. If you have a project you would like to begin and would like to learn more about how Frameworks can help, or have additional questions regarding the products mentioned in this article, contact us today and one of our customer representatives will be happy to assist you.