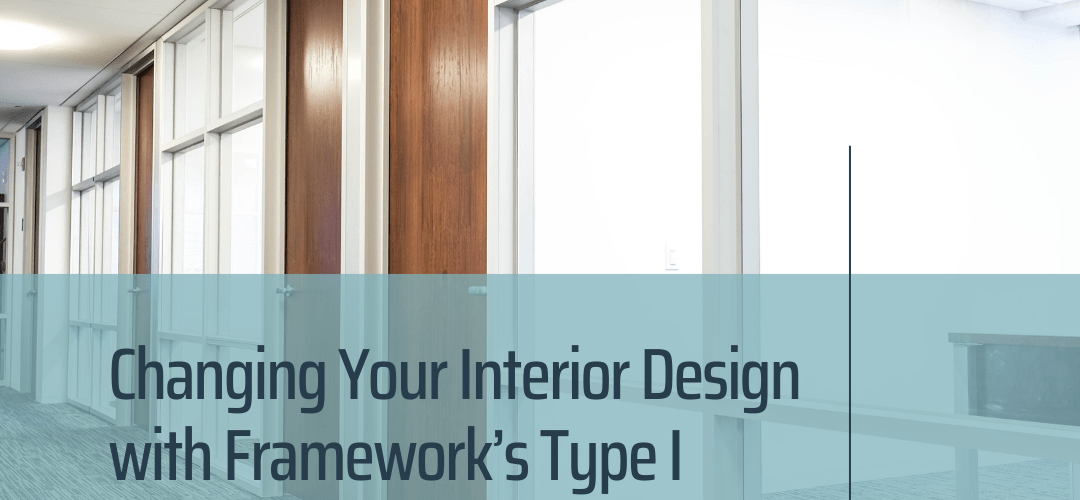 Aesthetics,
Aluminum Doors,
Aluminum Frames,
Aluminum Products,
Barn Slider,
Borrowed Lite,
Fire-Rated,
Fixed Panel Slider,
Frames,
Interiors,
Office Fronts,
Serenity STC-35 Frame System,
Sidelites,
Sliding Doors,
STC Rating,
Trims,
Uncategorized,
Windows,
Wooden Door
Posted by Ashley Easterwood
On September 8, 2022
Frameworks Manufacturing is known as one of the top aluminum frame, door and window manufacturers because of our high-quality products and superior customer service. Our Type I framing system, for example, is the original frame system of the industry. This innovative system brings new light to interior architecture with custom and standard glazing options.
The Type I framing system is predominantly found in three regions of the United States: North Carolina, Ohio, and Texas. The wall framing differs from our Type II framing system because the last drywall stud at each door frame opening must be held back in the wall 2 ¾" from the edge of the rough opening. This particular framing system screws into the sheetrock, which requires taping and floating to finish.
Featuring a smart modular design that can utilize an exposed top track, this framing system eliminates the need for drywall tracks at the top of all partitions. Its monolithic design does not require snap-on trims and has fewer components for quicker installation. The Type I framing system is available in all standard finishes, as well as custom finishes to bring your vision to life. It collaborates with a wall thickness of either 3 ¾" or 4 ⅞" and glass material with ¼" or ⅜" thickness, with it glazed on one side only.
Frameworks Type I framing system shows how we are able to place great designs within the small details, from recessed glazing pockets to concealed fasteners and more. One customer utilized our Type I Framing System with ¾" reveal head tracks in the standard bronze paint finish. The remodel of this project consisted of 220 door frames and approximately 1,000 l/f of clerestory window frames.
Since 1996, Frameworks has been manufacturing high-quality, prefinished aluminum frames, sidelites, borrowed lites, and doors for interior and commercial applications. We offer an expansive range of aluminum frame designs to give you the flexibility to create distinctive interiors. To inquire about our Type I framing system or other products and services, visit our products page or contact Frameworks today!