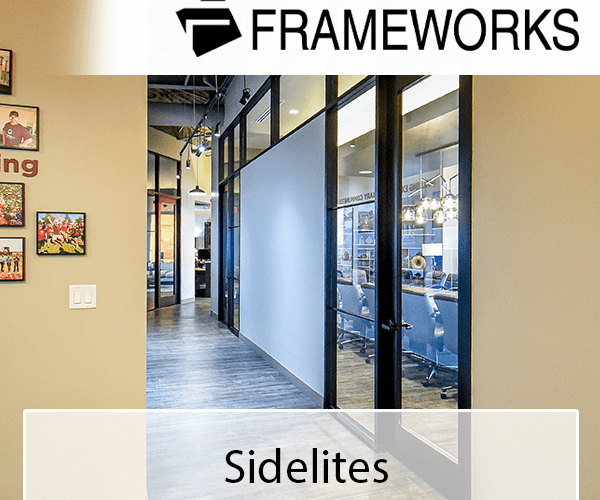 Aesthetics,
Aluminum Doors,
Aluminum Frames,
Aluminum Products,
Frames,
Interiors,
Sidelites,
Uncategorized,
Windows
Posted by Ashley Easterwood
On March 18, 2021
Since 1996, Frameworks Manufacturing has been developing high-quality, prefinished aluminum frames, sidelites, borrowed lites, and doors for interior and commercial applications. Sidelites are door frames with glass openings attached to one or both sides of the door, with options to be partial or the full height of the door it's complemented with. Frameworks' versatile sidelites are available pre-cut and ready to install.
With standard finishes in black, bronze, or white paint, we also offer customizable matching paint finishes. Anodized color options are black, bronze, and clear to match the vision you have. Rough openings and installation instructions are provided when purchased through Frameworks, and PDF and DWG drawings are available on our website.
We have the ability to offer sidelites with a 35-STC sound rating and can furnish up to 2ft wide by 9ft tall sidelites with a 20-minute fire rating. Our door frames are available in partial height in 6 feet 8 inches or 7 feet, or full height up to 10 feet.
Our Type II System accommodates ¼, ⅜, and ½ inch glass and has sidelites available in our 350, 375, 462, 487, 550, and 725 series. Our Type I System accommodates ¼, ⅜, and ½ inch glass as well and is available in our 375 and 487 series.
Below are some examples of Frameworks sidelites being implemented with our systems. The image to the right showcases a swing door with a glass transom and sidelite in our standard black finish while our image to the left presents a swing door with a sidelite in our standard white finish.
For more information about our sidelites, click here information guide. To inquire about other products and services or if you need to speak with a representative, visit our products page or contact Frameworks today!