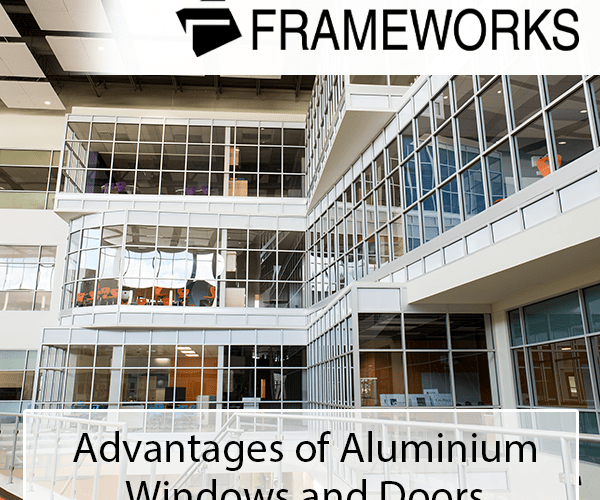 Aesthetics,
Aluminum Doors,
Aluminum Frames,
Aluminum Products,
Frames,
Interiors,
Learning,
Trims,
Windows
Posted by Ashley Easterwood
On June 11, 2021
Are you considering buying aluminum windows and doors for your office, or upgrading your current installation? Aluminum window and door framing systems are a great choice for a commercial space, and it's not just the aesthetics that make them attractive. Implementing Frameworks aluminum framing systems can have a positive impact on your comfort and energy bill, and is budget-friendly.
Aluminum is a material known for its strength, durability, and ease of maintenance. But did you know that quality aluminum doors and windows offer more than just that? The benefits of aluminum are plentiful. This material allows you to combine both performance and aesthetics. Many business owners find aluminum doors and windows offer several advantages over traditional steel.
The durability of aluminum makes it resistant to water damage and does not rust. Aluminum doors and windows are high on the durability quotient, as the material is resistant to corrosion over time. They also retain their performance and aesthetics throughout their lifetime. The nature of aluminum will continue to bring you a return on your investment.
One commonly known benefit of aluminum windows and doors is that it is the most commonly used material in contemporary architecture. It can be easily painted or anodized for different looks and finishes and no matter what the shape or measure of your doors and windows, it can be tailored to the most specifications. Its robustness is ideal for the construction of large doors and sliding windows. And if you're worried about the "industrial" look and feel of aluminum, you can easily customize window and door frames with the desired color and finish.
Being 100% recyclable and reusable, aluminum is far more environmentally friendly than other framing options. Having a low carbon footprint, old aluminum frames can be recycled into other new objects.
Since 1996, Frameworks has been manufacturing high-quality, prefinished aluminum frames, sidelites, borrowed lites, and doors for interior and commercial applications. For more information about Frameworks manufacturing aluminum frame systems, click here. To inquire about our products and services or if you need to speak with a representative, visit our products page or contact Frameworks today!