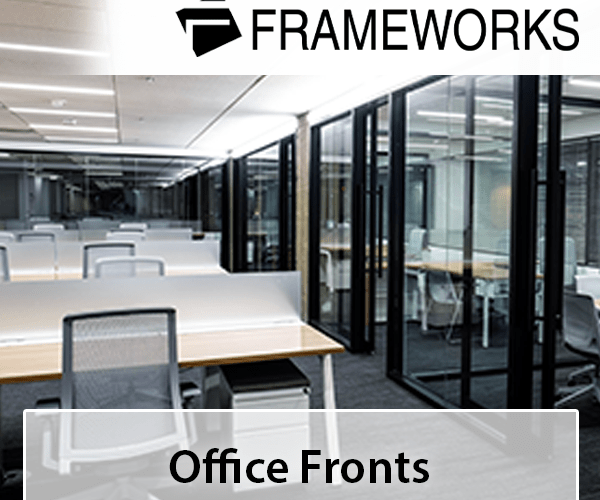 Aesthetics,
Aluminum Frames,
Aluminum Products,
Barn Slider,
Fixed Panel Slider,
Frames,
Interiors,
Office Fronts,
Serenity STC-35 Frame System,
Sliding Doors,
Trims,
Windows
Posted by Ashley Easterwood
On July 22, 2021
The type of office front used in your commercial space can convey different types of messages your customers receive. Older buildings and office spaces feature closed-off styles, meaning there is little openness which leads to teams becoming isolated and less communicative.
Modern office designs are becoming increasingly popular over the years, and the top design for office spaces is aluminum framing paired with glass partitions, creating openness and transparency. This type of design also gives any office space a clean, sleek appearance. Featuring natural light with industrial elegance, our aluminum framing systems are the perfect remodel to your office front.
Centered around open, light-filled functionality, implementing this design into your office promotes collaboration and privacy. Aluminum framing paired with glass windows for office fronts, doors and partitions can open your space to create a bigger office illusion, have employees collaborate and communicate regarding projects and other aspects of your business, and maintain privacy.
Frameworks offers a variety of aluminum framing systems that can transform your office front to your ideal vision. Our frames are manufactured to integrate into standard drywall partitions but can be adapted to accommodate varying wall conditions. We expertly engineer angled, segmented and radius frame configurations to any specification.
Our top two aluminum framing systems are the Type I and Type II framing series. The Type I framing system is the original framing system in the industry, screwing into sheetrock then taping and floating to finish. The system accommodates ¼ and ⅜ inch glazing. Our Type II framing option is a modular system developed for greater versatility and strength, as well as easier installation. Featuring a snap-on trim, it consoles fasteners and provides clean design lines. This system is installed after the walls are finished and painted, exempting it from critical path scheduling, making it an ideal choice for design build or fast-track fit-out projects. Type II system accommodates ¼, ⅜, and ½ inch glazing. View our frame system comparison chart to learn more about the difference between our Type I and Type II framing systems.
Both systems can be paired with a selection of doors offered by Frameworks. Our Barn-style sliding doors conserve space without compromising entry access or aesthetics. The doors glide along the surface-mounted track on the outside of the partition wall, with locking capabilities using either the Adams Rite 1870 cylinder-operated flushbolt lock or Rockwood locking pull. This door option can accommodate ¼, ⅜, and ½ inch glass and is available in narrow (2⅝ inches), medium (4¼ inches), and wide stiles (5½ inches).
Our Fixed Panel/Slider option creates a clean aesthetic look with stiles and rails that align and match dimensionally. All components are mounted within the partition width then fasted to the perimeter frame and sealed. The fixed panel option has an "L-shaped" lip that interlocks with the sliding panel for reliable performance and security. Its locking capabilities are either the Adams Rite MS1850 hook bolt, Adams Rite 1870 cylinder-operated flushbolt lock or Rockwood locking pull. Fixed panels are undersized by ⅛ inches and doors can accommodate ¼, ⅜, and ½ inch glass. This design option also is available in narrow (2⅝ inches), medium (4¼ inches), and wide stiles (5½ inches).
Since 1996, Frameworks has been manufacturing high-quality, prefinished aluminum frames, sidelites, borrowed lites, and doors for interior and commercial applications. For more information about Frameworks manufacturing aluminum frame systems, click here. To inquire about our products and services or if you need to speak with a representative, visit our products page or contact Frameworks today!