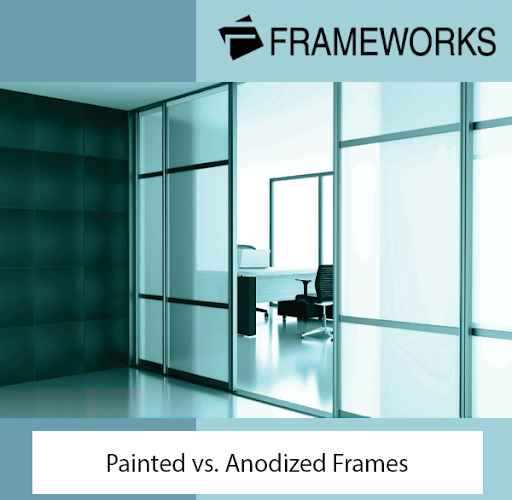 Aesthetics,
Aluminum Frames,
Aluminum Products,
Frames,
Interiors,
Office Fronts,
Serenity STC-35 Frame System,
Trims,
Windows
Posted by Ashley Easterwood
On August 26, 2021
Frameworks offers a variety of aluminum framing systems that can transform your office front to your ideal vision. Our frames are manufactured to integrate into standard drywall partitions but can be adapted to accommodate varying wall conditions. We expertly engineer angled, segmented and radius frame configurations to any specification. When selecting a framing system, customers have the option of choosing a painted or anodized finish.
A painted finish is created by using baked-on polyester enamel that is electrostatically applied to the framing system. Frameworks offers three standard paint colors: black, bronze and white, and can match custom colors for an additional fee. Painted frames may require touch-ups after a period of time.
Anodized frames are preferred by the majority of architects, with clear, black and dark bronze being popular color choices. Its preferability is due to the high durability anodized frames contain, and it can not peel due to the coating being part of the metal. Frameworks offers clear anodized frames and can create black, dark bronze, and champagne options for an additional fee. Being a Class II finish, anodized frames are great for high-traffic areas and require little maintenance and touch-ups.
Frameworks offers customers high quality manufacturing solutions for all their interior and commercial needs, from prefinished aluminum frames and sidelites to borrowed lites and doors.
Our two aluminum framing systems are the Type I and Type II framing series. The Type I and Type II framing systems feature a modular design with systems accommodating ¼ and ⅜ inch glazing, but the Type II series can also accustom ½ inch glazing. The design of our Type I series does not require snap-on trims and has fewer components to speed up the installation process, while our Type II system features a snap-on trim that easily conceals fasteners to create a uniform, clean appearance that can be implemented for design builds, fast-track-fill out projects and more.
Download our brochure to view more information regarding frame finishes and products. For additional questions or to discuss your manufacturing needs, contact one of our specialists today!