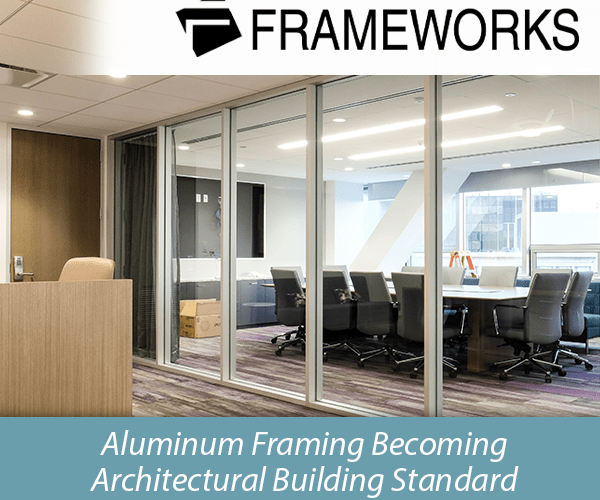 Aesthetics,
Aluminum Frames,
Aluminum Products,
Borrowed Lite,
Fire-Rated,
Frames,
Interiors,
Learning,
Managing,
Office Fronts,
Serenity STC-35 Frame System,
Trims,
Uncategorized,
Windows
Posted by Ashley Easterwood
On January 13, 2022
Providing customers and builders with a sleek, modern aesthetic and simple functionality, aluminum framing is becoming a popular material in manufacturing architects use for their projects due to its many advantages.
When compared to alternatives available, aluminum framing is a cost-effective solution. Instead of using old-fashioned materials, such as welded steel, for interior office fronts, aluminum framing components are a smart replacement. Switching materials enables structures to be built faster and cheaper, saving architects and their clients time and money on both parts and labor. Easy to use, structures for any project can be quickly assembled without special tools or product expertise. 
Friendly to your wallet and offering environmental perks, aluminum framing is reusable, making it simple and inexpensive to change structures as needs change. There are various aluminum framing options available to provide a simple, sleek elegant appeal to your office space. Aluminum framing offers several finishes designed to ensure your creative vision is achieved while making the space more appealing and stylized.  
The slim design of aluminum office fronts increases space in the office and its surroundings. Businesses with more items needed in the office benefit from the extra space allowed by a slim style frame and sliding door. A lot of work goes into building full, permanent walls. Aluminum office fronts are more effective since they are one of the least expensive materials available. Installation is easy as well as removable, making remodeling less stressful. 
Privacy is a large value for businesses. Between meetings and project collaboration, there is sometimes an increase in excess noise, hampering the productivity of others. By creating offices with aluminum framing, employers reduce the risk of inefficiency and increase the focus of team members. This also gives employees the chance to feel secure in their own space, as well as stay distanced from others.
Lighting is an essential part of a business space. More permanent walls decrease the efficient use of lighting in the building, increasing energy consumption and discarding the beneficial use of natural light. Aluminum office fronts take on more lighting to help your space illuminate without using extra sources of light, decreasing the strain on your budget.
Frameworks offers customers high-quality manufacturing solutions for all their interior and commercial needs, from prefinished aluminum frames and sidelites to borrowed lites and doors. Download our brochure to view more information regarding products and finishes. For additional questions or to discuss your manufacturing needs, contact one of our specialists today!