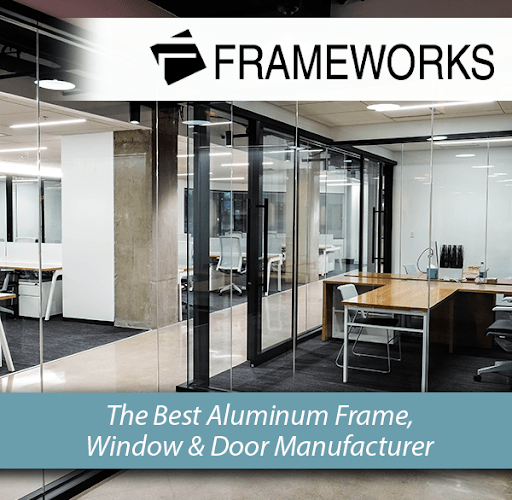 Aesthetics,
Aluminum Frames,
Aluminum Products,
Borrowed Lite,
Fire-Rated,
Frames,
Interiors,
Learning,
Managing,
Office Fronts,
Serenity STC-35 Frame System,
Trims,
Uncategorized,
Windows
Posted by Ashley Easterwood
On February 17, 2022
Frameworks Manufacturing brings new light to interior architecture with doors, frames and windows that pair custom and standard glazing options with an expansive range of aluminum frame design options to give you the flexibility to create distinctive interiors. We have been manufacturing high-quality, prefinished aluminum frames, sidelites, borrowed lites and doors for interior commercial applications for over 25 years. Based in Houston, TX, Frameworks specializes in sleek, modern designs with concealed fastenings, rich colors, and recessed glazing pockets to add an architecturally-pleasing design aesthetic to any project, achieving your ideal vision. We offer clients options that can be created for new construction as well as retrofit.
Our products are found in a variety of businesses, including but not limited to offices, schools, and healthcare facilities, as well as found throughout the country. Delivering well-thought-out custom solutions, quality-crafted to your specifications, project components are precut and packaged by opening to streamline installation, prevent installer error, and save time. Frameworks' short lead times make it the confident choice for fast-track and tenant fit-out projects.
The frames are manufactured to integrate into standard drywall partitions but can be adapted to accommodate varying wall conditions. We expertly engineer angled, segmented and radiused frame configurations to any specification with options of standard or custom anodized finishes and electrostatically applied painted finishes. The Type II frame system is a modular system that was developed for greater versatility and strength, and easier installation. It features snap-on trim that conceals the fasteners and provides clean design lines and is installed after the walls are finished and painted, which exempts it from critical path scheduling and makes it the ideal choice for design-build or fast-track fit-out projects. The Type I frame system – the original frame system in the industry – screws into the sheetrock and requires taping and floating to finish.
Our door selection delivers an expansive array of interior architectural doors to pair with our windows and frames to create exclusively unique interiors. From swinging doors to sliding/barn and pocket doors, Frameworks doors are assembled and packaged in our factory, complete with the frame and accommodations for any special hardware preparation, making installation easier on site. Doors are available in narrow (2⅝″), medium (4¼″), and wide stiles (5½″). Frameworks produces quality sidelites, transoms, borrowed lites, and clerestories, with a wide array of glazing and finish options.
Sliding door systems conserve space without compromising entry access or aesthetic design. Manufactured of high-quality aluminum, Frameworks sliders provide a quiet and smooth operation. This door glides along a surface-mounted track on the outside of the partition wall. Fixed Panel/Sliders create a clean aesthetic look with stiles and rails that align and match dimensionally. All components – the door, track and fixed panel – are mounted within the partition width. Fastened to the perimeter frame and sealed, the fixed panel has an "L-shaped" lip that interlocks with the sliding panel for reliable performance and security. Both options can be implemented with either the Type I or Type II framing system.
Designed with overall aesthetics in mind, the Narrow Stile Slider combines the installation ease of a sidelite frame and barn door with the look and sleekness of the fixed panel/slider. It also features the same easy installation found in implementing a sidelite frame and barn door. Frameworks also offers aluminum swinging doors for sleek design lines that match our frames. Beveled edge doors are available for use with hinges or off-set pivots while radius edge doors are available for center hung pivots.
Download our brochure to view more information regarding products and finishes. For additional questions or to discuss your manufacturing needs, contact one of our specialists today!