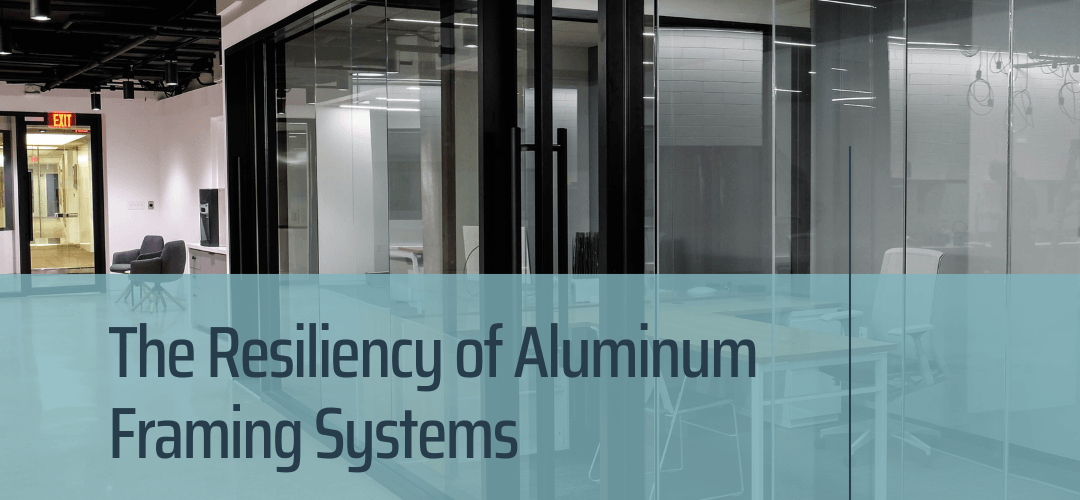 Aesthetics,
Aluminum Doors,
Aluminum Frames,
Aluminum Products,
Barn Slider,
Borrowed Lite,
Fire-Rated,
Fixed Panel Slider,
Frames,
Interiors,
Office Fronts,
Serenity STC-35 Frame System,
Sidelites,
Sliding Doors,
STC Rating,
Trims,
Uncategorized,
Windows,
Wooden Door
Posted by Ashley Easterwood
On March 9, 2023
Architects rely on aluminum framing systems for its practical benefits and sleek, modern designs. However, did you know they're also useful for making buildings more resilient against natural disasters such as earthquakes?
Structural Strength
According to The Aluminum Association, aluminum has a potential 70+ year lifespan while being lightweight, durable and corrosion-resistant. While no damage is not guaranteed, you can have confidence that aluminum framing will stand a better chance of maintaining its structural integrity when faced with extreme weather than its more traditional framing counterparts. 
Lightweight
While known for being strong, aluminum is also known for being incredibly lightweight, meaning the framework is far less dependent on supporting itself. Regarding earthquakes, seismic forces are proportional to the structure's weight; therefore, lighter materials have a better chance of withstanding them.
Elasticity
Another great reason why aluminum framing systems help against earthquakes is that they are very resistant to bending. Its elasticity helps structures maintain stability during an earthquake without fear of the aluminum frames bending or deforming. This allows manufacturers to design slimmer and more elegant aluminum frames without compromising their strength.
Longevity
While aluminum isn't invulnerable to wear and tear, it's much easier to maintain and keep in good condition for much longer periods. Aluminum is naturally resistant to corrosion, meaning that issues such as rust or stress cracks won't occur nearly as often. Aluminum's natural corrosion resistance helps it maintain its structural integrity in the event of water damage from a hurricane, according to the Fenestration and Glazing Industry Alliance. Because aluminum needs less maintenance and doesn't need replacing as often as other materials, aluminum framing systems will give you greater peace of mind during natural disasters.
Since 1996, Frameworks has been manufacturing high-quality, prefinished aluminum frames, sidelites, borrowed lites, and doors for interior and commercial applications. For more information about our interior aluminum framing, visit our page to view our designs and options. To inquire about other products and services, visit our products page or contact Frameworks today!