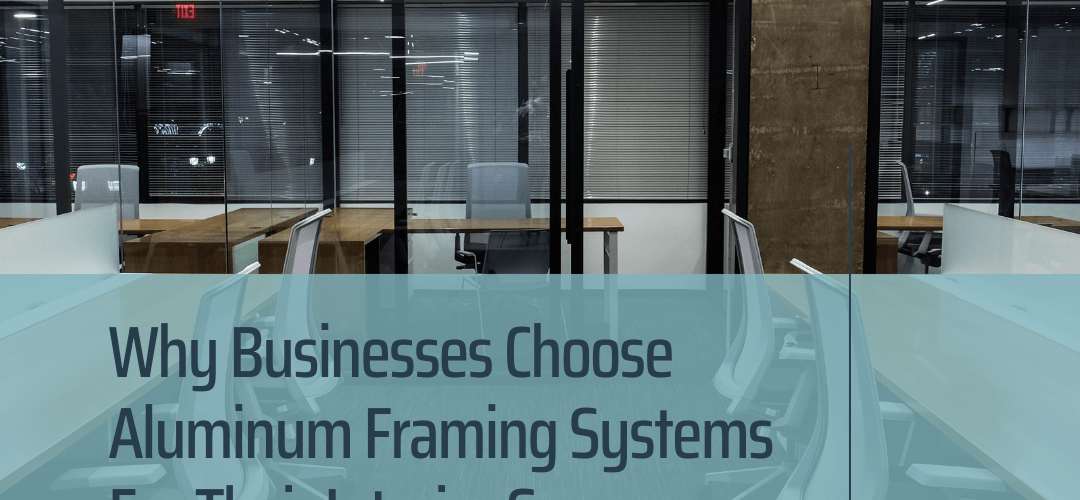 Aesthetics,
Aluminum Doors,
Aluminum Frames,
Aluminum Products,
Barn Slider,
Borrowed Lite,
Fire Rated Aluminum Framing,
Fire-Rated,
Fixed Panel Slider,
Frames,
Interiors,
Office Fronts,
Serenity STC-35 Frame System,
Sidelites,
Sliding Doors,
STC Rating,
Trims,
Uncategorized,
Windows
Posted by Ashley Easterwood
On February 9, 2023
Commercial offices, retail, hospitality spaces, government facilities, school classrooms, and other interior buildouts are all spaces architects and interior designers can utilize aluminum framing systems to balance connectivity and transparency with productivity and privacy. Interior framing systems offer ease of installation for fast-track construction, aesthetic flexibility, and sustainable design criteria.
Design & Efficiency
Interior aluminum framing systems have been most popular and functional in full-height walls, partial-height walls and partitions, interior window systems, and interior entrance systems. Their primary purpose is to divide and define interior spaces, and when used with glazing, provides physical separation while maintaining visual connections. Utilizing translucent or transparent interior glass and glazing maximizes the opportunity to project natural light from exterior walls into the building's interior. Frameworks Manufacturing offers a variety of systems to fit your specific look, and door systems to match.
Effective daylighting design strategies reduce the need for electric light sources and associated HVAC loads, which saves on the initial costs of light fixtures and equipment, and improves the building's operational efficiency. Energy-efficient buildings not only conserve natural resources but also have a smaller carbon footprint, benefit from lower utility costs and maintain a comfortable, consistent indoor temperature.
Performance, Productivity & Communication
In North America, people spend 90% of their time indoors. Studies provided by many mental health organizations show when people have access to daylight, views and comfortable temperatures; it leads to a happier, healthier and more productive role. It allows many to maintain or better their performance, boosts productivity when compared to more traditional framing systems that make spaces feel closed off and less welcoming, and encourages communication between others. 
Lasting Durability
Unlike storefront, curtain wall, window wall, and other exterior aluminum framing applications, interior aluminum framing systems are not subject to constant exposure to changing temperatures, wind speeds, precipitation, and other environmental conditions. Since aluminum frames are already durable, this increases the overall durability since it will not have exposure to such conditions. 
Privacy
Metal is an inherently hard surface that reflects and reverberates sound waves. In aluminum-framed full-height interior walls, the designer can reduce sound transmission with large air spaces between lites via sound transmission class (STC). STC measures transmission between interior walls. The higher the STC rating is for an aluminum framing system, the more privacy employees have to complete tasks or land a deal with a potential client. 
Interior Entrance Systems
Combining observational transparency and physical barriers, aluminum-framed full-height or partial-height interior walls with glazing are increasingly seen in secondary interior entrance systems. Secured entrance areas, executive offices, conference and meeting rooms, classrooms, retail stores and other enclosed spaces frequently rely on swing doors. This includes expansive entrance systems, where swing doors are complemented by surrounding glass and aluminum-framed walls. 
Modern design trends favor transparency and daylight achieved through large glass lites and narrow sightlines. Aluminum-framed entrances can feature a single glass lite with vertical stiles and a top rail for light to moderate use, commonly found in commercial buildings. Other configurations include two or more lites in openings of equal or asymmetrical sizes, and stiles and rails in various sizes.
Finishes & Installation
Architectural finishes protect and enhance the aluminum material. Complementing commercial design and decor, interior framing and door systems can be finished in prefinished painted or anodized finishes to suit your build. Cleaning and maintenance are also easy, taking little time to clean and little maintenance due to its durability.
Frameworks Manufacturing ships the finished aluminum framing to you with easy installation instructions, providing less stress for architects and contractors. Systems are integrated into standard drywall partitions but can be adapted to accommodate varying wall conditions, as they are expertly engineer-angled, segmented and radiused frame configurations to any specification.
Involving potential manufacturers and construction input early in the project's development can assist with product specifications and selection criteria for optimal performance, sustainability and longevity. Contact Frameworks Manufacturing today and one of our representatives will be happy to get you started on your quote or answer any questions you may have.