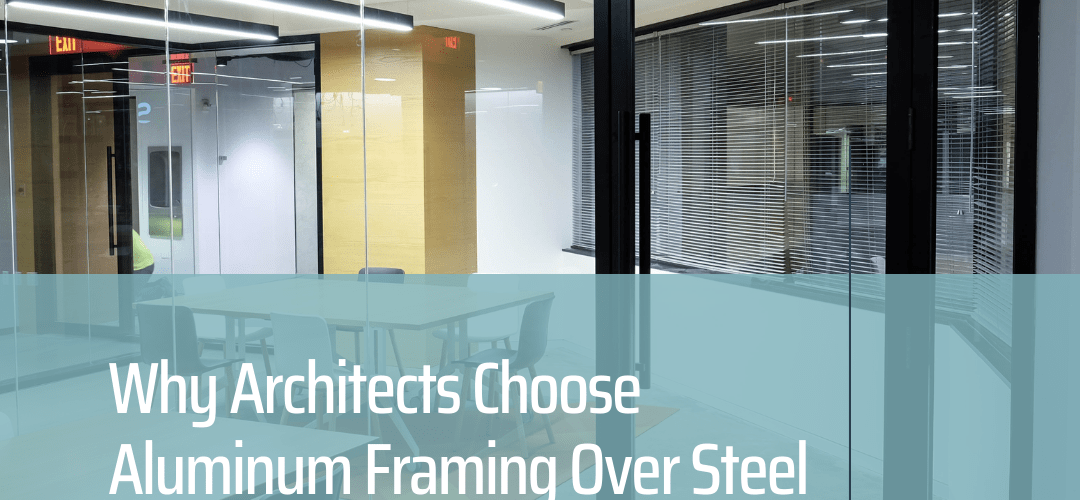 Posted by Ashley Easterwood
On June 21, 2023
While welded steel framing systems have been the traditional option for interior design compared to their aluminum counterparts, more architects choose aluminum framing systems to implement in their projects because of their long list of benefits.
Why Aluminum?
Aluminum is the preferred choice for architects for a number of reasons. Not only is aluminum more cost-effective than steel, but it's also more lightweight. Though it is lightweight, aluminum still provides great structural integrity and makes every room appear a bit more spacious. A more lightweight system can change the entire ambiance of a room, allowing in more light and making the space more inviting.
Though indoor framing is not exposed to the elements, it is important that the material you choose can withstand years of wear and tear. Unlike steel, aluminum is more resistant to rust and decay. With greater durability, aluminum requires less maintenance over the years.
Used in various applications, the modular design of aluminum frames allows for quick and easy assembly, modification, and disassembly.
Popular Aluminum Solutions
Two of the most common aluminum framing systems include Type I and Type II — both widely known in the industry for their easy installation and mounting.
A Type I aluminum frame system is user-friendly and intuitive. Supporting ¼" and ⅜" glazing, this system simply screws into sheetrock and only requires taping and floating to finish. This design is great when tackling more traditional projects, like offices with standard door frames, privacy partitions, and clerestory window frames.
Meanwhile, Type II is modular. With snap-on trim, this system conceals frame fasteners for a cleaner design. A Type II frame system is ideal for fast-track projects, as it is installed after walls have been finished and painted. This system supports ¼", ⅜", and ½" glazing. A Type II system is great for constructing natural light office partitions or glass office dividers.

Are you looking for high-quality, pre-finished aluminum frames for your interior commercial applications? Frameworks Manufacturing specializes in sleek, modern designs with concealed fastenings, rich colors, and recessed glazing pockets to add an architecturally-pleasing design aesthetic to any project. Curious about our aluminum framing systems and other product offerings? Check out our products and projects to learn more about our Type I and Type II aluminum framing systems. Have questions? Contact us today and one of our representatives will happily assist you.