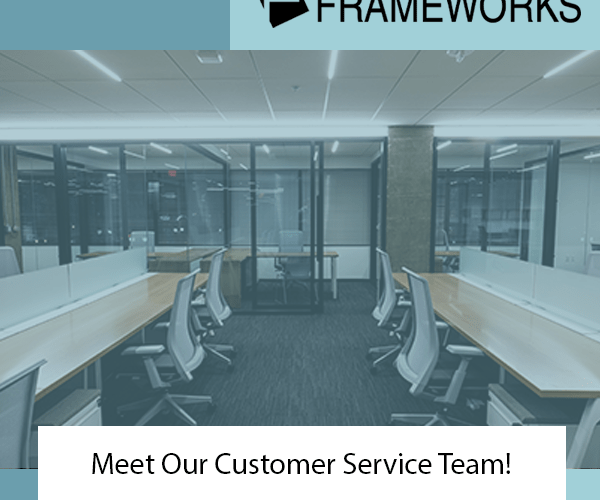 Aesthetics,
Aluminum Doors,
Aluminum Frames,
Aluminum Products,
Customer Service Department,
Development,
Frames,
Interiors,
Learning,
Managing,
Meet The Team,
Office Fronts,
Serenity STC-35 Frame System,
STC Rating,
Trims,
Uncategorized,
Windows,
Wooden Door
Posted by Ashley Easterwood
On November 17, 2021
At Frameworks, our mission is to build on our history of doing business the right way. We maintain and grow our customer base by treating customers as partners and providing excellent service. By acknowledging and consistently reminding our employees that they are the key success factor in the growth of Frameworks, we maintain a work environment fostering employee productivity and morale.
Meet Miranda, who has worked at Frameworks for a little over 3 years in our customer service department. She loves working in customer service because it's rewarding speaking to and building relationships with Framework's customers. When not at work, she enjoys listening to podcasts, cooking, and baking. Her favorite thing to do is spend time with her husband and three kids, and taking road trips throughout Texas.
Breaunna is a wife and mom of three with a BBA from Sam Houston State University. She started with Frameworks in 2016, taking time off to be with her children and returning in 2018. Outside the office, she likes to watch game shows, listen to music, and enjoy a good Sunday brunch. Breaunna is a great member of our customer service team because she enjoys building relationships with Framework's customers and helping in all situations.
John has worked at Frameworks Manufacturing for over 3 years. Previously working in other departments (Shipping, Project Management and Estimating), he continually builds his experience and expands his skillset. Striving and proving to be a team player, John loves to help customers and learn more about the industry. In his free time, John loves engaging in religious activities with family and friends, as well as working on Legos and various other crafts.
Offering customers high-quality manufacturing solutions for all interior and commercial needs, we help our customers achieve their ideal vision. Contact our customer service team today for all inquiries and we would be happy to assist. To better help serve our customers, when you are ready to place an order, please provide the information below:
Purchase order number:
Customer name:
Ship to address:
Name & phone number of shipping/receiving contact:
Quote Number:
Throat size:
Finish:

Clear anodized
Black
Bronze
White

Frame type:
Trim size

1¼"
1½"
2"
If other, please specify:

Corner condition for trim:
Vinyl/Mute color:
Handing (LH, RH, etc):
Hardware schedule or special preps:
Hardware locations (hinge/strike):
Glass thickness:
2" scribe (added length for field cutting):
2" scribe (added width for field cutting):
Have a question about our products or a potential order? Our customer service team is always happy to address your questions or direct your information regarding quotes to our estimating department.