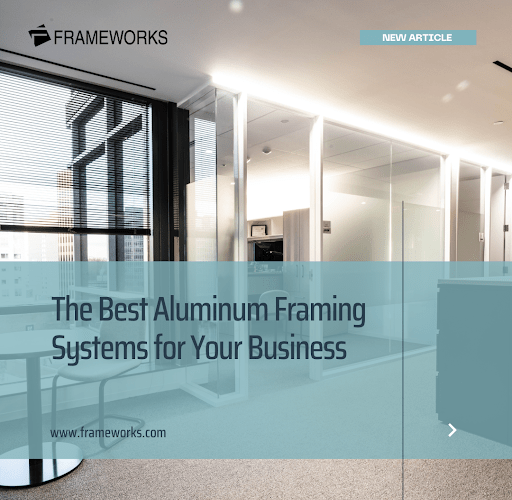 Aesthetics,
Aluminum Doors,
Aluminum Frames,
Aluminum Products,
Barn Slider,
Borrowed Lite,
Fire-Rated,
Fixed Panel Slider,
Frames,
Interiors,
Office Fronts,
Serenity STC-35 Frame System,
Sidelites,
Sliding Doors,
STC Rating,
Trims,
Uncategorized,
Windows,
Wooden Door
Posted by Ashley Easterwood
On November 16, 2022
Frameworks Manufacturing has been manufacturing high-quality, prefinished aluminum frames and more for interior commercial applications for over 25 years. Based in Houston, TX, Frameworks specializes in sleek, modern designs that utilize the best quality materials, creating concealed fastenings, rich colors, and recessed glazing pockets to achieve your ideal vision.
We offer clients options that can be created for any type of project, from new construction to retrofit. Bringing new designs and styles with our selection of frames, paired with custom and standard glazing options, customers have an expansive range of aluminum frame design options to give them the flexibility to create unique interior spaces for their business.
Why Choose Aluminum Framing
A case study performed by FacilitiesNet, a publishing company focused on building operations management and facility maintenance decisions, found that when a hotel was renovated with new aluminum framing, windows and finishes, the hotel's energy efficiency improved by an average of 47%. The aluminum framing products, in conjunction with high thermal performance glass, kept guests comfortable and supported the hotel's energy efficient operations. Aluminum framing also has a long material life cycle, reducing overall costs in maintenance for the hotel, as well as being recycled and reused for future architectural products.
Our Bestsellers
The Type II frame system is an extremely compatible system that was developed for greater versatility and strength, while making it easier to install. Its snap-on trim conceals fasteners, provides clean design lines and is installed after the walls are finished and painted. The Type I frame system is the original framing system of the industry, which screws into the sheetrock and requires taping and floating to finish. Frameworks also offers a selection of interior aluminum frames and door systems that can be implemented into any office design. Clients can choose from the following options: Barn Slider, Fixed Panel/Slider, Slim Slider, SlimLine Series, and Serenity STC-35.
Aluminum Framing Applications
Our framing systems can be found in a variety of businesses across the United States, such as offices, schools, and healthcare facilities. Delivering custom solutions, quality-crafted to client specifications, project components are precut and packaged by opening to streamline installation, preventing installer error and saving time. Frameworks' short lead times give customers the confidence needed for fast-track and tenant fit-out projects.
Framing Integration Process
Manufactured to integrate into standard drywall partitions, our frames can be adapted to accommodate varying wall conditions. We expertly engineer angled, segmented and radiused frame configurations to any specification, with options of standard or custom anodized finishes and electrostatically applied painted finishes.
Download our brochure to view more information regarding products and finishes. For additional questions or to discuss your manufacturing needs, contact our team today!