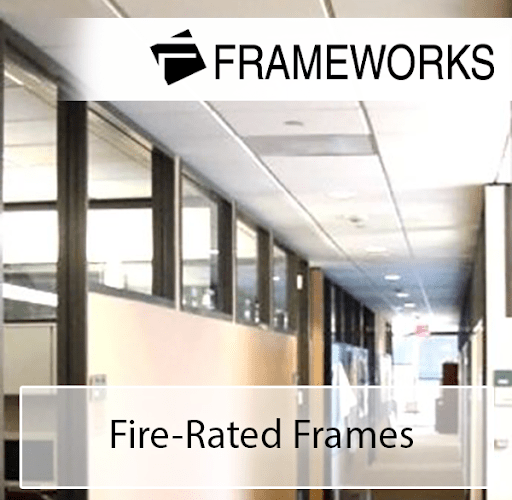 Posted by Ashley Easterwood
On February 25, 2021
To reduce the potential damage from a fire, having frames, doors, and all the components in between are essential elements in limiting the overall dangers. A fire-rated opening in a facility helps ensure anyone can carefully move past the fire on the opposite side of the door, without actually being harmed. This is especially essential for buildings that feature stairwells and hallways as part of their fire safety pathways.
Fire-rated openings are tested to measure the ability of that specific opening to prevent the spread of fire. By compartmentalizing the fire, the entrance provides a barrier allowing building occupants to exit the building and keep the fire contained.
There are two ways to test fire-rated doors: positive pressure and neutral pressure. At the beginning of a fire, smoke and pressure form at the top of a room and fill about ⅓ of the room's total area. The fire continues to be fueled by air entering the room from the top and bottom of the opening since the fire is trying to absorb any available oxygen.
Positive pressure begins to build and forms a neutral pressure plane, which is the area between the positive pressure above the door and neutral pressure below the door.
The previous standard form of testing, called the neutral pressure test, locates the neutral pressure plane in the space over the door. Heated gases rise from the test furnace and leave through an overhead venting system. However, the test does not consider closed room environments. The positive pressure fire test reproduces real-life fire conditions in a lab environment.
In the positive pressure test, the neutral pressure plane is lowered to 40" above the door's sill (bottom of the door). This forces the heated gases to seep through unsealed gaps around a door. The method allows for an interchange of gases between both sides of the door, relating more to real-life fire situations than the neutral pressure test. Without lowering the neutral plane to 40" above the door's sill, the heated gases will always rise and the fire will continuously feed on oxygen seeping in from the opposite side of the door.
Frameworks Manufacturing offers a full line of fire-rated frames and windows. We offer 20-minute neutral and positive pressure, 45-minute neutral, and 90 minute neutral and positive pressure frames. Since 1996, Frameworks Manufacturing has been developing high-quality, prefinished aluminum frames, sidelites, borrowed lites, and doors for interior and commercial applications. For more information about our fire-rated frames, check out our information guide. To inquire about other products and services or if you need to speak with a representative, visit our products page or contact Frameworks today!