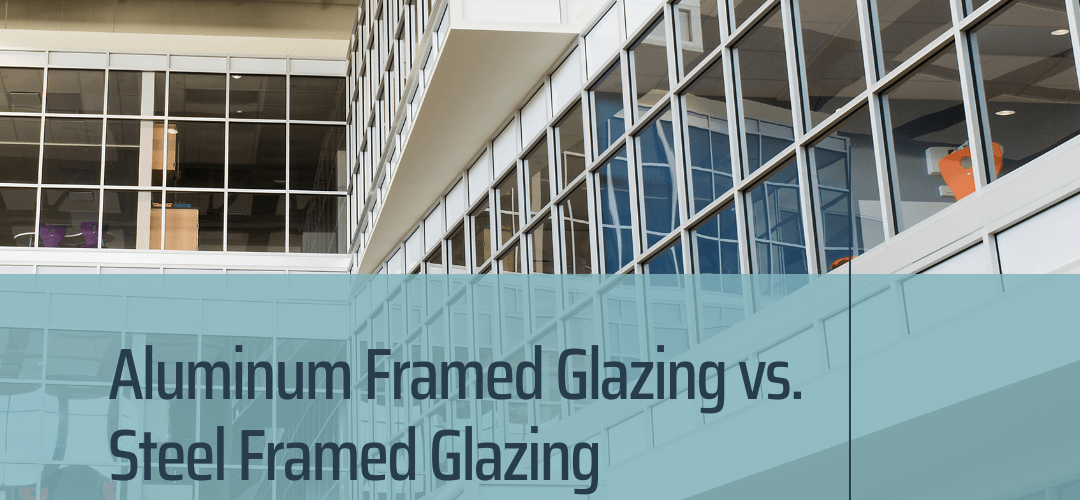 Aesthetics,
Aluminum Doors,
Aluminum Frames,
Aluminum Products,
Barn Slider,
Borrowed Lite,
Fire Rated Aluminum Framing,
Fire-Rated,
Fixed Panel Slider,
Frames,
Interiors,
Office Fronts,
Serenity STC-35 Frame System,
Sidelites,
Sliding Doors,
STC Rating,
Trims,
Uncategorized,
Windows,
Wooden Door
Posted by Ashley Easterwood
On January 11, 2023
Glazing defines the material that makes up the edge of glass panels. Not only is there an aesthetic difference between aluminum and steel framed glazing, but they are also different when it comes to energy efficiency, strength, and durability. Understanding the difference between aluminum framed glazing versus steel framed glazing can help you decide the best solution for your business.
The Differences
Aluminum-framed glazing is a cost-effective solution for interior doors and paneling. Aesthetically, you can achieve very similar results to using steel-framed glazing. The advantage of using aluminum, besides the more affordable cost, is the lightweight feel. This makes the interior space feel airier and more flowing. Doors and windows between offices are not fortified with steel, meaning they are lighter and perhaps more welcoming.
Also, aluminum-framed glazing is more resistant to rust and decays compared to steel-framed glazing. They are low-maintenance and it is possible to create them to mirror steel glazing in its aesthetics, which is achievable with Frameworks custom and standard glazing options paired with an expansive range of aluminum frame design options.
Steel-framed glazing is a steel-framed feature panel, usually at the expense of one large pane of glass. These feature panels are normally framed with black or dark gray steel framing. The use of steel-framed glazing is to make a move towards more creative designs, such as bespoke panel patterns. Steel-framed glazing is sometimes used for double-paneled, transparent doors inside an office space. This gives a really modern feel, allowing natural sunlight to make its way through with ease.
Mounting Abilities
Aluminum-framed glazing might be easier and quicker to obtain than steel-framed glazing. It is possible that steel-framed panels might take several months to get ready. Its extra weight combined with the fact it might be triple-glazed contributes to a longer lead time. If you need a quicker solution, you might be better off looking at aluminum. Frameworks aluminum framing systems feature a smart modular design, snap-on trim, recessed glazing pockets, and concealed fasteners, making mounting and installation a breeze. 
Affordability
The cost of framing systems is dependent on the type of metal used and how easily it can be manufactured, among other factors. Generally, interior steel glazing is more expensive than selecting aluminum as your material of choice. Again, this estimate is because of the availability of the metal and the amount of work that goes into creating the framing system. Data related to the cost of construction materials determined that steel-glazing options for interior office spaces cost an average of $1,300 per square meter, while its aluminum counterpart cost about an average of $800 per square meter.
Mechanical Properties
Despite their tendency to rust, steel-glazed framing will likely last you 60 years or more. However, aluminum framing will last even longer due to its durability. Both aluminum and steel are energy efficient and have proven to provide great structural integrity for office spaces. 
Either steel-framed or aluminum-framed glazing is a great, modern choice when it comes to creating your ideal vision for your office space. Both will allow natural light to pass through and create striking new features. However, when comparing the other factors such as cost, durability and more, aluminum-glazed frames are the better choice for customers. 
Frameworks has been manufacturing high-quality, prefinished aluminum frames, sidelites, borrowed lites, and doors for interior commercial applications for over 25 years! We strive to provide amazing products and outstanding customer service to our clients, one of many reasons why architects, construction professionals and businesses looking for a refresh to their interior space choose Frameworks for all their framing needs. To learn more about our products, check out our products page. For questions about our products or to inquire about a quote for your next project, contact one of our representatives today!